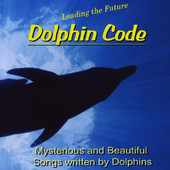 Dolphin Code
Music written by the dolphins themselves! The Dolphin Code CD is an exciting breakthrough in our research with dolphin communication!
SpeakDolphin.com has begun advanced computer analysis of the frequencies of dolphin vocalizations and echolocation.
We have discovered an astounding pattern of musical modes -- beautiful, yet, so complex that the human ear cannot decipher them without the aid of technology.
These modes appear to be unique to each dolphin. We are currently transcribing these modes on a keyboard so that the human ear can appreciate these sophisticated musical patterns. Each song written by the dolphins is overlaid with the actual recording from the composing dolphin.